About Us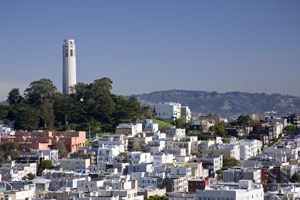 ---
The San Francisco Rent Ordinance (SF Administrative Code, Chapter 37) was enacted effective June 13, 1979 by the Board Of Supervisors and signed by the Mayor as emergency legislation to alleviate the city's housing crisis. The Ordinance created the Residential Rent Stabilization and Arbitration Board "in order to safeguard tenants from excessive rent increases and, at the same time, to assure landlords fair and adequate rents consistent with Federal Anti-Inflation Guidelines."
The Ordinance applies to approximately 170,000 rental units in the city and, among other things, places limits on the amount of rent increases which can be charged by the landlord and on the reasons for evicting a tenant. The Rent Board is a special fund department, completely funded through the collection of rental unit fees and has no general fund contributions in its budget.
The Rent Board has the authority to:
promulgate Rules and Regulations to effectuate the purposes of the Rent Ordinance;

hire staff, including administrative law judges; and

conduct rental arbitration hearings, mediations and investigatory hearings on Reports of Alleged Wrongful Eviction.
---
Contact Us
Office:

Office hours:

San Francisco Rent Board

8 AM - 5 PM,

25 Van Ness Ave., Suite 320

Monday - Friday excluding holidays

San Francisco, CA 94102-6033

Phone: (415) 252-4602

(Cross street is Market Street)

Fax: 415-252-4699
| | |
| --- | --- |
| Senior Staff: |   |
| Executive Director | Robert Collins |
| Deputy Director | Christina Varner |
| Senior Administrative Law Judges | Sandy Gartzman and Joey Koomas |
| Rent Board Supervisor | Jennifer Rakowski |
Counseling: Drop-in
Due to limited staffing, we do not have the capacity to respond to inquiries by email.  However, Rent Board counselors are available at the Rent Board's office from 8:00 AM – 5:00 PM each working day. Due to high demand and a limited number of staff, there can sometimes be delays in speaking with a counselor. Counseling sessions at the office are generally limited to 10 minutes.
Phone Counseling: (415) 252-4602
You can receive personal assistance by phone during phone counseling hours, which are 9:00 AM – Noon and 1:00 – 4:00 PM, Monday – Friday, excluding holidays. Because of demand, calls may be limited to 5 minutes. It is helpful if you have your questions written down before you speak with a counselor.
Other Important Phone Numbers:

Administrative Offices Only

415-252-4601

 

TTY

415-554-9845

 

Rent Board Hearing Coordinator

415-252-4629

 

Rent Board Appeals Clerk

415-252-4644
Duplication Requests and File Review:
Please download and fill out the File Review & Document/Recording Duplication Service form.  If you have any questions, please call Phone Counseling at (415) 252-4602.
Multiple Language Assistance:
We have bilingual staff in the following languages: Spanish and Cantonese. We also have a telephonic language line interpretation service available in 20 languages for limited English speakers who visit our office. Our 24-hour automated telephone information line (Info-to-Go) is available in Spanish and Chinese. In addition, many of our forms and documents are available in Spanish and Chinese through our Website.
The Rent Board staff does not provide translation services at hearings or mediations. However, if you are unable to afford the services of an interpreter, you can file a Hardship Application for interpreter services and the Rent Board will hire an interpreter for you. Hardship applications for interpreter services can be obtained at the Rent Board's office and must be filed at least 72 hours before the hearing or mediation. American sign language interpreters are also available upon 72 hours request.
Our comprehensive website offers users 24-hour access to printable versions of: agendas and minutes of the Rent Board Commission's meetings; monthly and annual statistical reports; the San Francisco Rent Ordinance; the Rent Board's Rules and Regulations; the Uniform Hotel Visitor Policy; over 80 topics of interest to landlords and tenants; 10 in-depth Fact Sheets on major landlord/tenant issues; Rent Board petitions and other forms; news and announcements; and more. Many of our forms and documents are available on our website in Spanish and Chinese.
---
Jobs with the Rent Board
Current Employment Opportunities:
2975 Citizen Complaint Officer
The Rent Board is currently seeking a 2975 Citizen Complaint Officer (Counselor) whose primary role will be providing information and referrals to tenants and landlords regarding the Rent Ordinance and related housing law.  CCOs will also be responsible for reviewing petitions submitted into the Rent Board for consideration. Language skills such as Spanish, Mandarin, Cantonese, Russian or Tagalog would be highly desirable. For more information or how to apply you can click on the following jobs link: https://www.jobapscloud.com/SF/sup/bulpreview.asp?R1=PBT&R2=2975&R3=093606
8177 Administrative Law Judge (ALJ)
The Rent Board is currently seeking a full-time Administrative Law Judge (ALJ) whose primary responsibility will be conducting arbitration hearings and rendering written decisions on landlord and tenant petitions, as required by the San Francisco Rent Stabilization and Arbitration Ordinance. 
Minimum Qualifications
Juris Doctorate from accredited law school.
Active membership in good standing with the State Bar of California.
Desirable Qualifications
Four years of progressively responsible experience as a practicing attorney or other comparable experience.
Working familiarity with San Francisco landlord/tenant, rent control and housing laws.
How To Apply
Visit www.jobaps.com/sf and enter job class 8177. Applications close at 5:00 pm on March 4, 2019.